About Helen Dyrkacz
After 20 years as a Public Service manager, supervisor and consultant, Helen has developed a keen expertise on communication and leadership. As a professional speaker, trainer and facilitator, this expertise is transferred to her audiences in time saving ways.
Helen is a CPA (Chartered Professional Accountant) who had a major career shift, as she changed her focus from working with numbers to working with people, and is known as someone who understands the people behind the numbers.
Helen has many years of training, facilitation and coaching experience through instructing the Dale Carnegie Communications & Human Relationships course, as well as Leadership Training for Managers. She has also instructed a variety of courses and workshops with the Canada School of Public Service and certified to deliver Insights Discovery programs.
She has designed, developed and delivered personal and professional development programs for hundreds of staff and managers in various occupations including public administration, small business, manufacturing, service and retail industries.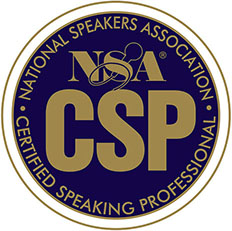 Helen has a passion for learning and has a Certificate in Adult and Continuing Education (CACE) and is a Certified Training and Development Professional (CTDP).
In 2015 Dyrkacz was recognized as a Certified Speaking Professional (CSP) by the National Speaker's Association in Washington, DC. The CSP is an internationally recognized standard for professional speakers that is demonstrated through competencies in keynote speaking, training and facilitating. Approximately 12% of worldwide speakers currently hold this professional designation.
Helen has been tested and qualified for the "Certified Virtual Presenter" certification from espeakers.com, an organization that supports professional speakers. It certifies that she has the tools, environment and skills to perform a quality remote presentation using live video.
Helen is also an active board member of the Canadian Association of Professional Speakers (CAPS), International Federation For Professional Speakers (IFFPS), Institute for Performance and Learning (IPL), and Toastmasters International (TI).